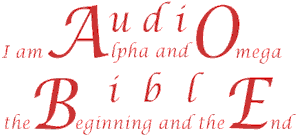 ---
Dear Webmaster,
If you would like to link to Audio Bible, you may do so freely. In your own interest, we ask you to follow these guidelines. We designed these pages with the visually impaired in mind. It is easier for them to navigate Audio Bible if they come though our "Front Door".
Audio Bible "http://www.audio-bible.com"
You may also link to our "Back Door" and go to the Bible directly.
Audio Bible Online "http://www.audio-bible.com/bible/bible.html"
Or jump right into our "Living Room" and make yourself at home, by saving the "bible.html" to your system and linking to it. This makes it appear as if the text and audio reside on your server. If you want to do more to support this ministry consider becoming a sponsor of Audio Bible.
Things to do and not to do:
Check with us first before linking to anything else.
You may use one of our Audio Bible Logos, but only as a link to Audio Bible. Please do not alter the graphic without our approval.
Do not link to Audio Bible in a frame, but you can use target="_blank"
Warning! The RealAudio files and the narration are copyrighted. Do not to link to them directly, or copy them in any way. Do not use our website or audio files for commercial purpose without our express written permission.
---
Back to the Audio Bible homepage