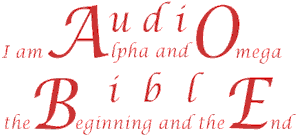 ---
This Web site has been designed with the visually impaired in mind. We used a font called Verdana, especially conceived to enhance legibility on computer screens. We also used a larger type to make it easier to read. You can download the Verdana Typeface from Microsoft™ if you don't have it. Click here to get it or for more information about the Verdana Typeface.
---
If you can read this, you should not have any problems with Audio Bible or with the rest of this site. If you are using screen reading software, click here to use our online Bible and you will get a menu of all the Bible Books. Select The Book you want to hear and you will get a menu of Chapters in that Book. Click on the Chapter you want to hear and Alexander Scourby will read this Chapter to you. To select another Chapter Click on the Chapter Number, or use the back command at the bottom of the page to get back to the Bible Book menu. Since there is no text your screen reading software will not interfere with the RealAudio™ playing in the background.



Real Player is required to hear the audio on these pages, click on the RealPlayer Logo to download your free copy today.
---